By Diana Turner, Holcomb Energy Systems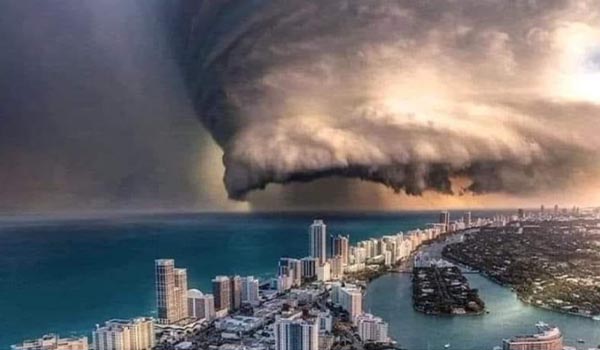 "Are you ready for the hurricane?" Gene Brown, Holcomb Energy System's Lead Engineer asked me on Monday afternoon. "I guess so," I answered with noticeable uncertainty in my voice. In the past 24 hours I've been asked this question at least 7 times. When you're repeatedly posed with such a question, your mind turns on a warning mode and starts interpreting people's comments as an omen from God, that a higher force was telling me, "It's going to be bigger than you think. Go through your preparation efforts again and make adjustments accordingly."
This was going to be my first hurricane and it was forecasted to be a monster: a Category 4 or 5 capable of causing catastrophic damage. "But isn't it kind of useless to prepare for a hurricane that's going to kill everything in its path anyway?" my fatalistic mind kept repeating as I waited in a long line at Walmart with a shopping cart filled with canned food and water bottles. "What if I'm just wasting money?"
Two days earlier, I had a conversation with my roommates. One of them, Lena, is a young Russian woman who moved to the US with her family two years ago and settled in Port Charlotte, FL. The other, Dimitry, has lived in Venice, FL for the past two years. The three of us were sharing a big 2020 house in Venice, which according to Dimitry, was sturdy enough to resist a hurricane and unlikely to be affected by storm surge and flooding because of its high elevation.
From our conversation, I gleaned that both of them were skeptical about the upcoming hurricane, and they were not planning to prepare for it.
"My elder sister said that it's all a conspiracy aimed at selling out all of the merchandise in grocery stores. It's all about making money and doing business," Lena said.
"Hurricanes are not a big deal. I drove through Charlie a few years ago. I even videotaped it while driving! So why should I even care about Hurricane Ian when Florida has been through so many hurricanes in the past, and each time everything was fine?" said Dimitry. "So I'm not going to worry about preparations. I have a few bottles of water and a pizza from yesterday, I'll be fine."
Ian was not forecasted to land until Wednesday night, so I decided to work half the day on Tuesday. Besides, most of my colleagues were in the lab and working until noon. Willie, our electrical technician approached me, and his question caught me by surprise. "What's your evacuation zone?" he asked.
"What do you mean? Are we all supposed to evacuate?" I asked, stuttering. "No, only if you live in Zone A or B," he answered. I didn't know my zone, and Willie kindly offered to help me find it on a map. "You're in Zone C. It's probably going to get flooded there. If you want, you can stay here in our facility overnight. At least we're going to have electricity here during the storm." The idea of staying in a lab amidst all the wires, sensors and industrial stuff, with no comfy bed or shower didn't sound appealing to me, so I decided to stay at my friend's apartment in Sarasota.
Wednesday night was sleepless. The Weather Channel forecasted the eye of the storm cutting a swath right through Sarasota, and when you see trees uprooted by high winds, waiting for the destruction to land any minute, it's kind of hard to relax. What if the roof crashes down while you're asleep? What if a window shatters in your face? Our adrenaline was increasing as my friend and I watched the water level rising rapidly in the lake 30 feet from our house, leaving us wondering how many hours it would take before our neighbors from downstairs got flooded. Luckily, this didn't happen. At the very last minute, the storm's full fury turned to the east, and we didn't have to look into Ian's eye. Thank God!
The worst was over by Thursday morning, and that's when we decided to get out of the house and survey the damage to our apartment complex and our cars. We were fortunate, as the damage was limited to several downed trees that smashed nearby cars, severed utility lines, destroyed mailboxes, and dragged street lights to the ground. The entire area was full of debris. Our cars were fine, thanks to my friend's prescient suggestion to park away from the trees.
My friend and I spent the next couple of days staring outside, wondering how humanity ever lived without electricity and the Internet. We didn't have any board games, though they would have been a welcome addition to this 'return to the Victorian age' experience and a great way to dispel our boredom. "Two days without electricity isn't a problem," we concluded, "but two days without the Internet is absolute torture."
On Friday afternoon, I went to Venice to visit my roommates. The last message I got from them was, "OMG, Diana, it's a HURRICANE, it's horrible!" I couldn't stop worrying about them. As I was driving through the city of Venice, I saw terrible structural damage, destroyed mobile homes, uprooted palm trees on the side of the road, bent street signs that looked like modern art, and so much more destruction. My neighborhood didn't look anything like the place I had left just a few days earlier. Now it looked like a war zone.
Even though my roommates were stressed and exhausted, they were alive and uninjured, and I felt thankful for that! Eight days after the hurricane, our house still had no electricity or running water. Dimitry was proven right about our high elevation — we avoided flooding although water levels on the street reached as high as our waists. Many of our neighbors lost their vehicles too.
"My parents in Port Charlotte had to sleep in the attic due to the flood. That's how much water they got in the house", Lena said tearfully, "I didn't believe that the hurricane would be real until I saw our neighbors' fences flying about and trees being uprooted, falling down on the neighbors' roofs and cars, crashing them completely. Even our kayaks got blown away — we still can't find them."
When I got back to work Monday, I was happy to see my colleagues safe and sound and our building did not sustain any damage. Phill and Willie, our electrical technicians who live in Sarasota a few miles to the south, said that their houses were fine too, and the hurricane felt like an ordinary Florida storm to them.
Here in Sarasota we were lucky this time, as the damage could have been far more devastating, but our neighbors just a few miles to the south are still suffering the very worst of Ian's impact. Many areas are no longer habitable and there's no telling when they will be again.
In all this chaos, one lesson remains clear: Ian is not the last hurricane causing disastrous damage to Florida. The climate is changing and warming the oceans, making storms like Hurricane Ian stronger and more intense. This year, the weather was merciful to our hometown. But because of climate change, our luck will likely run out.